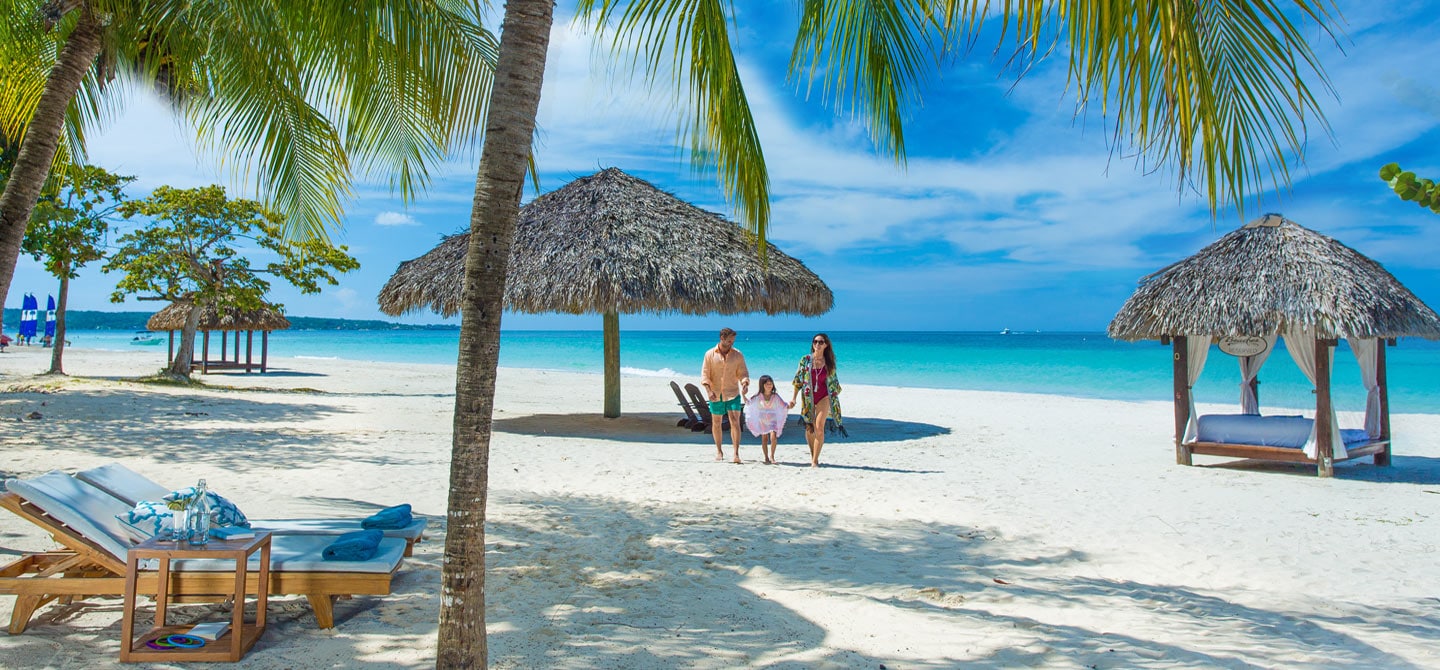 Jamaica has miles of beautiful coastlines since it is surrounded by the Caribbean sea. Every year, people would come here for beach vacations to get away from the cold seasons. The following are the 4 best Jamaica vacation spots for beach goers.
Seven Mile Beach
Seven Mile beach is a breathtaking white sandy beach with blue sea water Negril on the west coast of Jamaica. The water is always clean and the seaweed is usually wash up to the area in front of coco la Palm. If you want some privacy, you can visit the north end of Bloody Bay. You can buy fruits and lobster from the vendors that are dressed colorfully. From time to time, a musician will also stop by your spot and play some Reggae music to entertain you. Seven Mile Beach offers various types of water sports activities including snorkeling, jumping from the cliff into the sea and parasailing. You can reach the place by taking a 2 hour car ride from Montego Bay,
Frenchman Cove
Frenchman Cove is a small beach situated in Port Antonio, Portland, Jamaica. It has soft white sand great for building sand castles or burying yourself. It is a paid beach and tourists are not allowed to bring food. It is near to the car park and you can enjoy free wifi while at the beach. The further you go into the water, the warmer the temperature of the water. The water is clean without any seaweed and rock. Lifeguard is on duty in between 9 am – 5 pm. Although there is not a strong current, it is important to practice awareness when swimming to avoid getting drifted away. There is a river that empty its water into this beach. There are rope swings where  you can swing over the cool river water.
Half Moon Beach
Half Moon Beach is one of the most pristine white sandy beaches in Negril, Jamaica. It is dog friendly and you will see many dogs hanging around. You will find plenty of chair lounges, hammocks and benches with shade. There are cabins you can rent nearby if you want to visit Half Moon Beach daily. Tourists can take a boat ride to the nearby island.  If you want to go snorkeling, you can take a ride in the catamaran and let it drop you off at the reef. Snorkel gears can be rented from the local vendors. If you want to stay at night, make sure to bring along a bug spray.
Doctor's Cave Beach
Doctor's Cave Beach is a popular beach in Montego Bay, Jamaica. The beach charges an entry fee of a few dollars. You can rent umbrella, towels, floats, and chairs for additional fees. There are lots of water sports opportunities at Doctor's Cave Beach including snorkeling, and kayaking. The beach is open at 8:30 and close at sunset. You should come before 11:30 am to avoid the crowd. There are 2 piers that extend to 50 yards in the water. The sand can get hot in the afternoon so make sure to wear shoes. There are 2 inflatable ocean trampolines in some distances off shores. It has one lifeguard watching over the swimmers.